The batteries are generally not waterproof, and the battery waterproof test is actually using experimental and analog methods, which means that it is impossible to test the battery under the pressure of deep water (sea). Usually, the battery is waterproof in structure and technology. After the product is formed, it is used for waterproofing. This is one of the important contents of the "full testing" that the waterproof battery claims. The equipment used is basically a watertight tester. Density tester.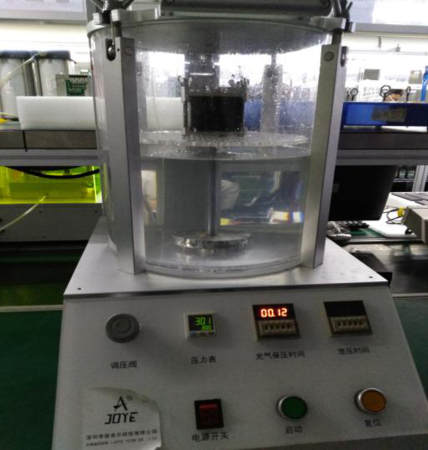 Both instruments are instruments for battery waterproof detection, used to measure battery tightness, powerful and accurate. It is a test instrument with high-precision technology and easy to handle and operate. The instrument on the right is the display data, showing the internal pressure value and change data of the instrument.
The watertight device is part of the waterproof tester. In fact, it is a sealed chamber. There is also a compressed air pump to inflate it. When the preset pressure value is reached, the compression pump will stop automatically. Observe whether the air pressure drops. The airtightness of the battery was measured.
The specific test is as follows: put the tested battery in the mold in the sealed chamber, as shown in Figure 1, press the start button, the upper and lower molds will be closed and compacted, and the compressed air pump will start working until the internal pressure of the mold reaches the preset. After a good air pressure value, the air pump stops working, and then observe the relationship between the air pressure drop on the display and the time. If the air pressure value drops to the set lower limit within 30 seconds, the instrument will alarm, indicating that the product is airtight. Not qualified. The airtightness of each battery requires three consecutive tests.